Phnom Penh Declaration 2022 Signing Ceremony
17/02/2022
The Phnom Penh Declaration of 2022 was launched on 17 February to highlight the fundamental dental care requirements of patients with special needs.

The signing ceremony was presided over by HE Dr Oeurn Borarorth, Secretary of State, Ministry of Health. The ceremony also included representatives from the Cambodian Ministry of Health, the Global Child Dental Fund, University of Health Sciences, University of Puthisastra, International University, Health Science Institute of Cambodian Royal Armed Forces, Norton University, Cambodian Dental Association, Cambodian Association of Paediatric Dentistry, One-2-One Cambodia (Healthy Kids and Friends of Clefts in Cambodia projects), and Special Olympics Cambodia.
The Global Child Dental Fund calls on the global dental community to support the Cambodian dental schools to build Special Care Dentistry capacity in the country to ensure all children with special care needs can obtain appropriate care from dental providers.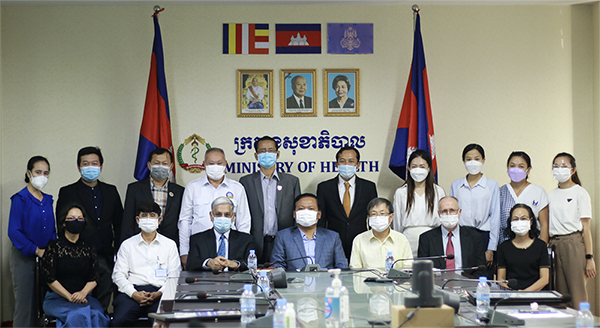 Call to action: to develop Special Care Dentistry capacity in Cambodia. We call for a commitment from all the dental schools in Cambodia and the Ministry of Health to:
Agree to develop a joint curriculum in Special Care Dentistry for all undergraduate dental programmes
By the end of 2023, all graduating dental students will have undergone the programme
Develop a series of continuing professional development materials for general dental practitioners and their teams in Special Care Dentistry
Provide all dental practices with access to this training by the end of 2023
Develop, by the end of 2023, a network of dentists, across the country, with enhanced training in Special Care Dentistry
Establish, by the end of 2022, in each dental school, a named lead in Special Care Dentistry Provide, by the end of 2023, hands-on experience in Special Care Dentistry for dental students