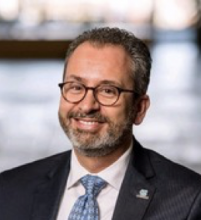 Dean and Professor, University of North Carolina School of Dentistry
Dr Scott S De Rossi
Dr. Scott De Rossi, DMD, MBA, is Dean and Professor at the University of North Carolina at Chapel Hill School of Dentistry. He received his DMD from the University of Pennsylvania School Of Dental Medicine in 1995 and completed his post-doctoral training in oral medicine at the University of Pennsylvania Medical Center in 1997. 

Prior to joining UNC, Dr. De Rossi was professor of oral medicine, director of the Clinical Center for Oral Medicine, and chairman of Oral Health and Diagnostic Sciences at the Augusta University/Medical College of Georgia.

Dr. De Rossi is the 2011 recipient of the International Association of Dental Research Innovation in Oral Care Award, a 2012-13 fellow in the American Dental Education Association (ADEA) Leadership Institute, a 2014 recipient of the Judson C. Hickey Excellence in Teaching Award at MCG, and the 2017 winner of the Herschfus Award from the American Academy of Oral Medicine (AAOM). He achieved diplomate status from the American Board of Oral Medicine in 1999. 

Dr. De Rossi is a past member of the board of trustees and executive committee as treasurer for the AAOM. He also maintains memberships in the American Dental Association, ADEA and the American Association of Dental Research.